On 11 -14 October 2017, Kiki Setiawan, the Managing Partner of Kiki Setiawan & Partners Law Office, was proud to be part of Indonesian delegates to attend Conference of Australian and Indonesian Youth (CAUSINDY) in Melbourne, Australia.
CAUSINDY is a bilateral youth organization which provides a platform for young leaders to create a stronger bilateral relationship between Indonesia and Australia. The flagship event is a four-day program which brings together 30 young leaders from Australia and Indonesia from various background such as start-up digital entrepreneur, lawyers, journalist, government officials and youngsters working in technology and finance industries.
This year's CAUSINDY focused on technology and innovation in the bilateral relationship. The conference organized some panel discussions in four different sectors i.e. politics, defense and security, business and technology and innovation. The panel discussions were held at some different venues like Denton Corker Marshall office, Invest Victoria office, Asialink office, Telstra head office and Monash Business School City Campus.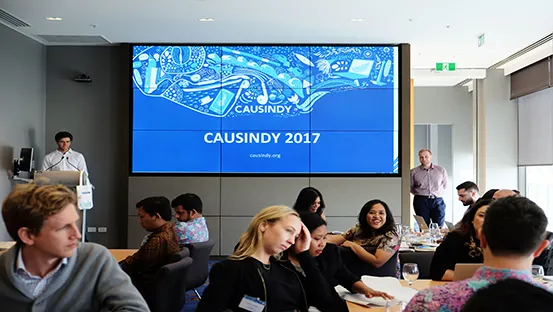 The Deputy Secretary of Trade Victoria, Jay Meek gave introductory remarks and explained about the importance of people-to-people links as the foundation of an effective trade relationship between the two nations. Meanwhile, it was also a good opportunity to hear the view on the challenges and opportunities of the bilateral relationship from Ibu Dewi Wahab, the Consul-General of Indonesia in Melbourne.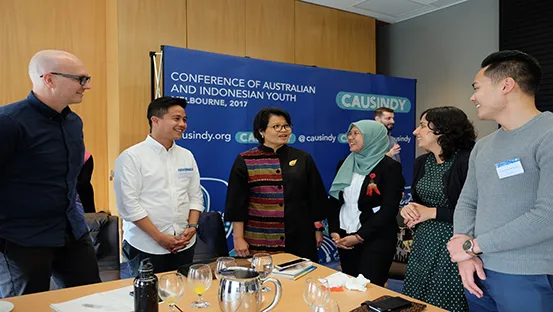 Interestingly, highly qualified and experienced speakers in their respective fields were invited to the conference such as John Denton as the CEO of Corrs Chamebrs Wesgarth Law Firm, Andy Zain as the Managing Director of Kejora Ventures, Dr. Dave McRae as Senior Research Fellow at the University of Melbourne's Asia Institute and many more.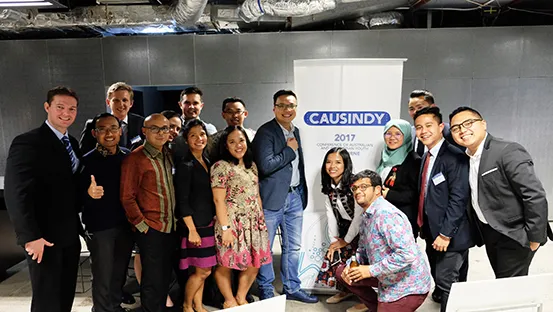 During the conference, the delegates were broken into groups and each group is supervised by a mentor who had been experiences in the past conferences. Each groups should came up with an applicable idea related to the conference theme. All ideas were presented at CAUSINDY Review final presentations. In addition, the delegates visited some junior high schools around Melbourne area to share Indonesian cultures to school kids and to attract them to visit Indonesia. The delegates also did private tour on an iconic football stadium, Melbourne Cricket Ground.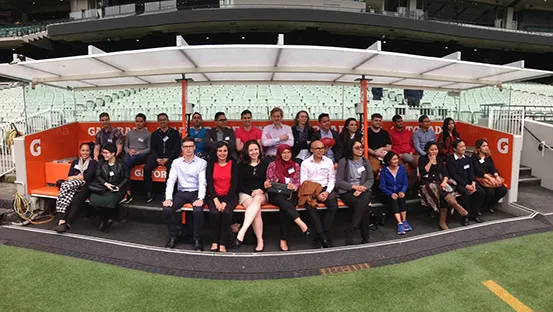 In this conference, Kiki joined the Rinjani Team which consists of four Australians and two Indonesians. Our team unanimously decided to combine all team member ideas to build an apps called 'HubAsli'. This shall be a platform to connect indigenous from Northern Australia and Eastern Indonesia in some areas such as cultural events and knowledge exchange, marketplace, financial support and legal assistance.
Lastly, the sponsors and partners also played an important role to the success of the conference. CAUSINDY was sponsored by Telstra and Telkomtelstra, UTS Insearch of University of Technology Sydney, Victoria State Government, Corrs Chambers Westgarth, Denton Corker Marshall, The University of Melbourne, The Australia-Indonesia Centre, Australian National University and Northern Territory Government. Also, it supported by the media partner, The Conversation and the partner, ACICIS and Asialink.